Topinabee invites you to join us along the shores of Mullett Lake in northern Michigan where the good life is always in season. We enjoy a wonderful small town atmosphere with shops, restaurants, and a local market and deli. But it's the awesome natural beauty all around that is the real reason we live here in our part of the Great Up North. Come and visit us in Topinabee and you and your family will see what we mean!
SUMMER IS HERE! JOIN US FOR AN OTHER  SUMMER ON THE LAKE!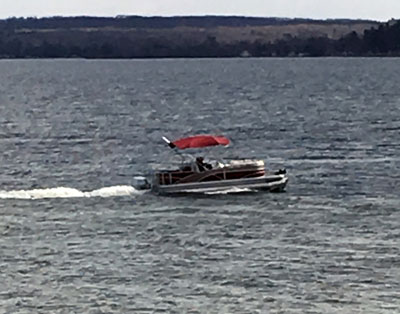 THE  SEASON HAS STARTED!
TDA MEETING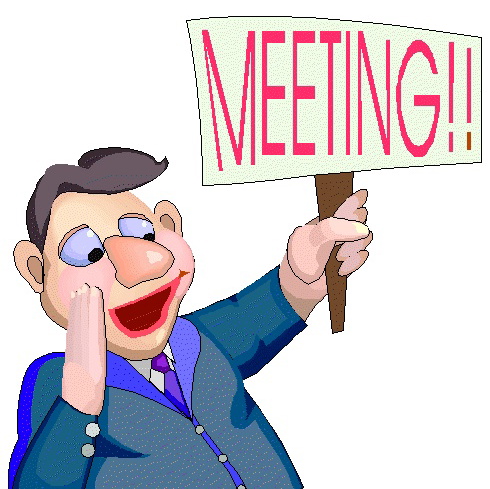 The annual TDA meeting will be held June 24 at 10:00 am.  The meeting will be held at the Mullett Township Hall.  Please mark your calendar and bring a guest.  This will be an informative meeting about happenings in Mullett Township.  Speakers will include the township supervisor, township clerk, the fire chief and  a board member of the Friends of the Library.
TOPINABEE LIBRARY STORY TIME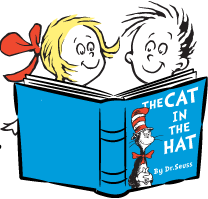 The Topinabee Library will be holding a summer story time program for children ages 1-12.  They will be held every Tuesday at 11:00
(except the 4th of July) through August

HOBIE KIRSCH SWORN IS AS TOWNSHIP SUPERVISOR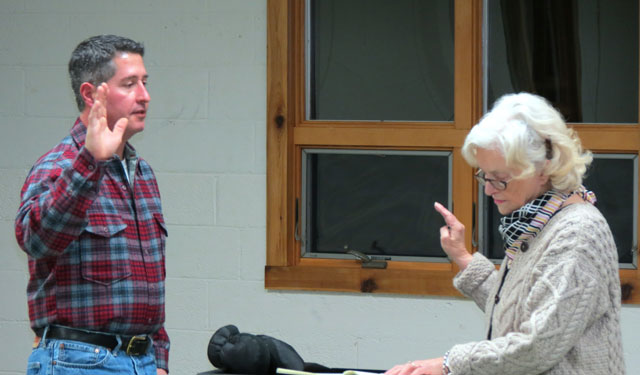 Township clerk, Rachel Osborn, swears in Hobie Kirsch as the new Mullett Township Supervisor.
MULLETT TOWNSHIP BOARD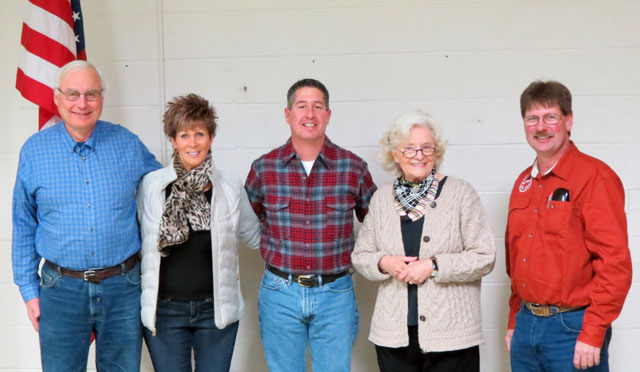 L-R: D. Dombrowski, trustee, Kathleen Flory, Treasurer, Hobie Kirsch, Supervisor, Rachel Osborn, Clerk, John Brown, Trustee.
MULLETT TOWNSHIP SUPERVISOR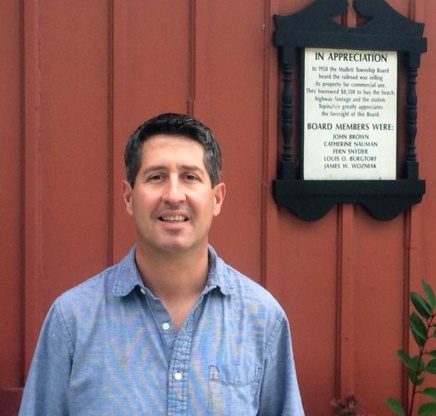 Hobie Kirsch was elected to serve as Mullett Township supervisor.  He replaces Mary Ann Gale.  A big thank you is owed to Mary Ann for her efforts to make our township a better place to live.  Her hard work and dedication to the Township is greatly appreciated.  The township was fortunate to have her services for the past four years.
The other members of the Board were re-elected: Rachel Osborn, secretary, Kathy Flory, Treasurer and trustees: John Brown and Dennis Dombroski
Hobie is a native of Cheboygan and moved to Topinabee when he was 16.  After high school he joined the navy and served in the submarine corp.  He traveled around the world and under the polar ice cap and served in "Desert Shield" while in the Navy.  After his service to our country, he formed his own company-Home Solutions- a home improvement company.  He has also worked as the township maintenance supervisor.
He lives with his wife Tammy and enjoys hunting and fishing.  We all look forward to Hobie's leadership as the township moves forward.
A VISITORS VIEW OF THE TOPINABEE LIBRARY
Click on the word LIBRARY below to see and interesting article and pictures by a visitor to the area.
TRUE COLORS-A TOPINABEE VIDEO
FREE MUSIC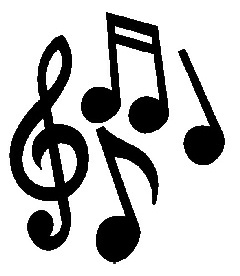 The Topinabee Library is offering free music streaming through Freegal.  
Freegal® is a free music service from your library. Freegal offers access to about 9 million songs, including Sony Music's catalog of legendary artists, and over 15,000 music videos. In total the collection is comprised of music from over 28,000 labels with music that originates in over 100 countries. There is no software to download, and there are no digital rights management (DRM) restrictions. Access to Freegal is limited to patrons of subscribing libraries. All you need is your library card number. To begin, simply inquire at Topinabee Public Library, 231-238-7514 or log onto our wedsite with your library card!  

www.topinabeepl.michlibrary. org
TOWNSHIP PLANS FOR PARK IMPROVEMENTS
The Township is submitting an application for a MNRTF Grant to make additional improvements to the park area to include additional defined parking around the area of the restrooms and at the north end of the pavilion.    It will include a rain garden and drainage to better handle storm water runoff.   A pathway will connect the pavilion and parking area with the trail and the new ADA pathway down to the lake and new beach area.    A retaining wall will be built along the highway in the parking area adjacent to the existing restrooms and the kayak rack will be installed down by the lake so people have a place to put their kayaks.  Native plantings and new trees will be featured.  The plan is below: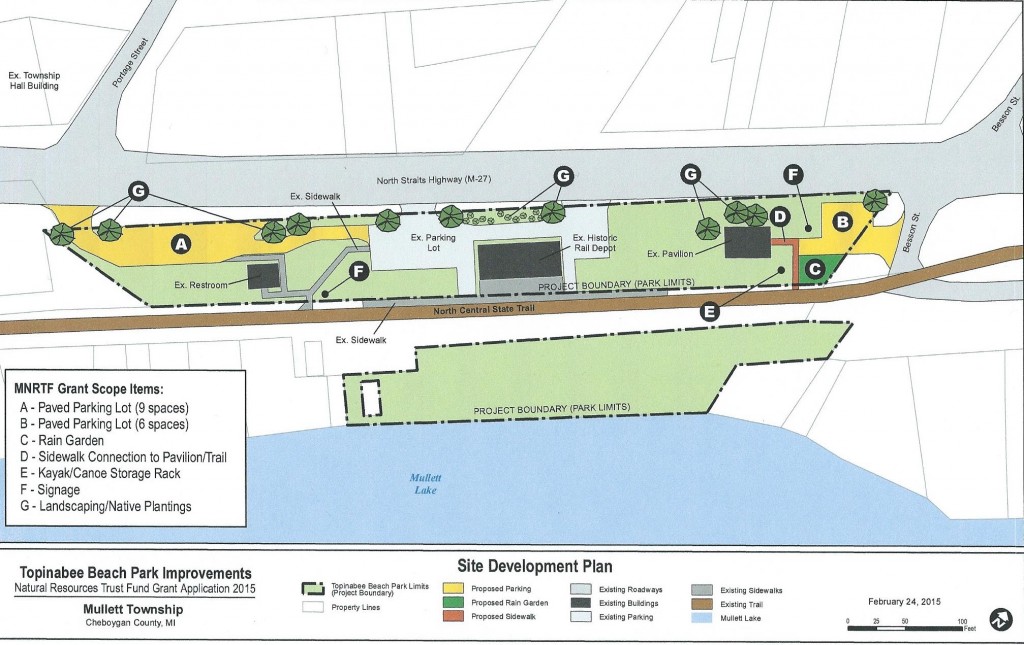 The site below provides information about all types of trails in Northern Michigan-walking, biking, snowmobile, ATV
MICHIGAN WATER TRAILS
Checkout the new Water Trails web site for Northern Michigan.  Click on the link below:
An article about the library in the Cheboygan Tribune can be read at the bottom of the organization page on this site.
VIDEO
A SIX PART VIDEO ON THE INLAND WATERWAY IS BEING PRODUCED AND THE FIRST SEGMENT ON CROOKED LAKE IS COMPLETE.  A DRONE IS BEING USED IN THIS PRODUCTION.  CLICK ON THE LINK BELOW: