Beth's Memories
BETH CHAMBERLIN'S MEMORIES OF TOPINABEE IN THE 1920'S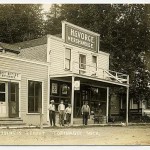 Topinabee's Founding and the Chamberlin Store
In the 1880s Henry H. Pike purchased a section of land in Cheboygan County. It was a gamble. He platted it, at least the west side that bordered Mullett Lake, and built Pike's Tavern. Someone else built a resort hotel on the east side of the lake. Both men were gambling on the proposed railroad going to the Straits of Mackinaw going on their side of the lake. Pike won and Topinabee exists because of the railroad. Over the years there were 2 Pike's Taverns and later 2 Topinabee Hotels. All burned down and all were rebuilt except the last Hotel Topinabee which burned down in the early 1960s..
My father, Ernest C. Chamberlin, purchased the store and house in Topinabee in 1916 from the Turners who had handled general merchandise. Turner appeared, from the records, also to be a druggist. My father did not continue in that field. Papa ran a typical country general store trying to supply all the necessary things needed by farmers and the resort community. Grocery selections were not what they are today. We had coffee and tea, probably not more than 2 or 3 brands; canned vegetables were creamed corn, green beans, yellow beans, pork and beans, spinach, peas and white asparagus. Fish was tuna, red and pink salmon, and mackerel, salted cod fish came in boxes in December. Campbell's soups had few varieties – tomato, chicken noodle, veg-beef, but not much else. We had canned milk, baking powder, soda, and a few spices – ginger, nutmeg, and cinnamon. We had vinegar, catsup, mustard and salad dressings came much later. The smallest size flour sack was 25#. Sugar came in 100# sacks and Dad opened them and poured it into the sugar barrel where we scooped out the desired amount at 6 cents a pound. We sold butter, lard and cotasuet (cottonseed fat), the latter 2 came in by wooden pails and were dished out into boats (containers). When oleo came into being, it was white with a dye sold with it and the buyers had to do their own coloring. Soda crackers came in bulk. We sold ham, bacon and hot dogs and summer sausage. Cookies came in bulk and were picked out by the customer. No, we didn't have gloves. We had fresh fruit in season.
In the dry goods department we sold bib overalls – just the pants alone had not come into style yet for the farmers. We sold union suits – one piece winter underwear for men, women and kids. Summer underwear was one-piece BVDs for all. We sold men's socks – dress and heavy wool for winter. Also we sold ladies silk hose, kids long stockings, red and black wool men's shirts, bandanas, ladies handkerchiefs, yard goods for dresses and aprons, and thread of all the colors in the rainbow, as well as embroidery floss.
We carried the most necessary drug store items like iodine, mercurochrome and Vaseline, aspirin, cough drops and syrup, cotton balls, bandages, rubbing alcohol, ungentine for burns and boric acid.
Laundry supplies and regular soaps were available: P&G soap, Ivory and Oxydol. Fels Naptha was a good bar soap for laundry and excellent to use after you had been through a patch of poison ivy. Washing soda was used by most house wives probably because we had such hard water.
We sold the Detroit Free Press and Detroit Times (Kennedy's sold the Detroit News) and the daily was 3 cents, Sundays 10 cents. Magazines of the day included Liberty, Colliers, Saturday Evening Post, Ladies Home Journal, Good House Keeping, True Story and western stories.
As a typical country store we also sold hardware, dry goods, grains, coal and the few available over-the-counter drugs.
 One winter there was ice on the storage room roof- the north side of the store. My father thought he had to get up early the next morning to get the ice off the roof. As it turned out he didn't have to as the house next door burned down and the ice – 4-5 inches of it – saved his store. It was Mr. Bonsecours' house and he never rebuilt and father bought the lot.