Topinabee People
PEOPLE OF TOPINABEE
MEET YOUR NEIGHBORS!
NEW TOPINABEE MARKET OWNERS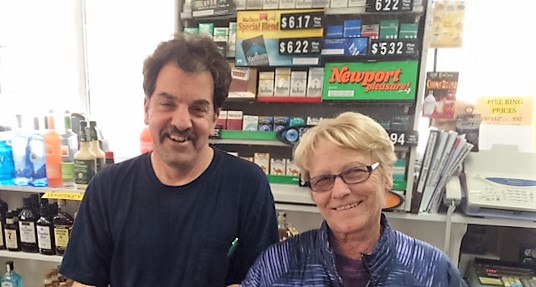 Lynette and Jeff Lagota have purchased the Topinabee Market.
Lynette is a native of Hillman. Michigan where she was raised and went to school.  Jeff was born and raised in East Jordan.  They met  in Petoskey were married and have a son Jeffrey.  The Lagota's owned an automobile parts store and repair shop in Petoskey for many years.  They recently sold the parts store and Jeff continues to manage the store.  They have no plans to make any changes in the market and plan to continue to offer the fine service provided by Jeff.  Their hobbies are running their businesses and as a result, work is their hobby.  Their son Jeffrey will be working at the store.  Stop in and welcome Jeff (on Sunday's), Lynette and Jeffrey to Topinabee. (see the Cheboygan Tribune article on the market in the Business tab)
BOOTS AND CHRIS WRIGHT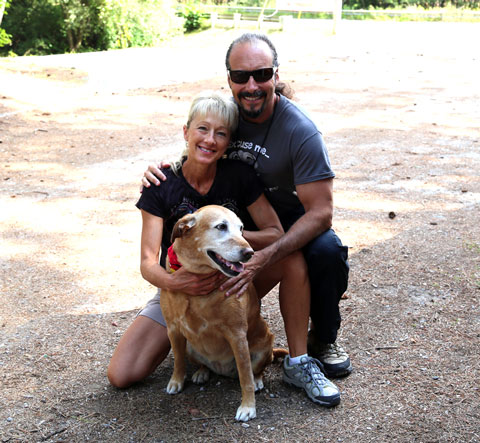 Boots was born in California and moved to Topinabee in 1987 with her parents, who were from the area, when they retired.  Boots attended Central Michigan University until her parents bought "Hoppies" restaurant.  She then took over running the dining room at the restaurant.  Boots did this for several years until she got married and worked helping her husband Chris.
Chris was from Grayling and after a year at Kirkland Community College he got into radio work on a part-time basis.  This led to a full-time job in radio.  He also started doing voice overs for commercials. To advance in the radio business he would have to move to a larger city and he did want to make that move.  He set up his own recording studio to write and recording commercials and other voice overs.  During this time he wrote and recorded an audio book and that ultimately led to a career in writing books.  He published his first "Chillers" book March 2, 2000.  Since then Chris has gone on to publish 40 American Chiller books, 16 Michigan Chillers books, 12 books written for first graders as well as several adult and audio books. Boots and Chris opened the Chillerama Book Store in Topinabee to sell his books.  In addition to writing, Chris speaks at schools and conferences throughout the country on the importance of writing and reading.  
Boots and Chris have one hobby-dogs, dogs, dogs!  They started the Northern Michigan Animal Rescue Network in 2007 after seeing an individual convicted of cruelty to animals.   The network received no government funding and all people involved are volunteers.   They work with people who need help with neutering pets, or emergency vet services.  The network tries to find homes for pets that are "homeless".  They also foster dogs who need time to regain their health so they can be adopted.  Fostering a dog can be as short as two weeks and as long as six weeks.   There is also a need for vacation relief for people to have someone take on their animal for a short term basis.  The network tries to educate people about the responsibilities involved in adding a pet to their household.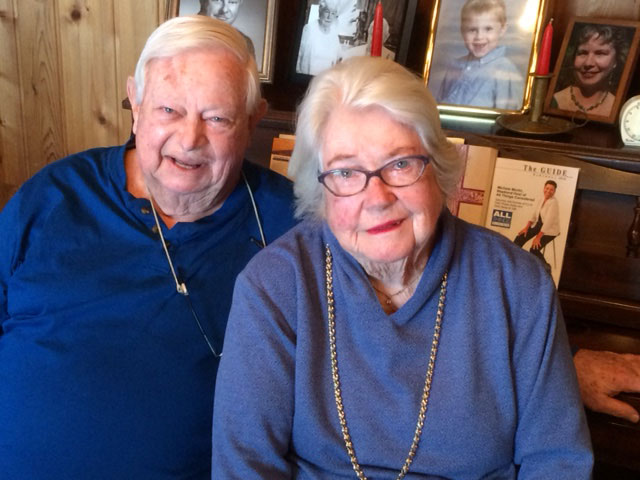 MADELYN AND TONY NAYLOR
Madelyn "Babs" was born in Manhattan, New York City, and raised in Scarsdale, New York.  She graduated from Simmons College in Boston with a degree in Business Administration.   Babs then worked as a civilian employee in the Department of the Air Force in Germany as a secretary in the purchasing department.  She was employed by General Foods in White Plains, New York, where she was a secretary in the engineering department.  Babs moved back to the city, met Tony and as she said "the rest is history".  They were married and raised two girls who are married and living in Chicago and Statesville, North Carolina.  They have a grandson, a granddaughter, three grand cats and a grand dog!
She worked at Rockefeller University for twenty years as a secretary to a Nobel Prize winner.  She is President of The Friends of the Topinabee Library and a member of the Cheboygan Campus Guild at McClaren Hospital.
Tony was raised in Ann Arbor, attended University High School and received his AB degree from the University of Michigan.  He enlisted in the Marines and served for over three years.  He worked in the legal department at a Marine Air Corp base and was discharged as a First Lieutenant. 
Tony then went to work on Wall Street as a municipal bond trader and worked for several Wall Street firms as an investment banker.  He is still employed by a Wall Street firm and works out of his home –a residential branch office, serving 40 clients.  Tony was first introduced to Mullett Lake as a boy.  His father had hay fever and would rent cottages in the area each August.  His father built a home on Liberty Point in 1946 where the Naylor's still reside.  He has been here every summer since that time.  He commuted to New York for several summers by catching an early flight out of Pellston and arriving in New York by the time the market opened.  Tony and Babs have been year around residents on Liberty Point for the past 5 years.
Tony is a member of the Board of Directors of the Mullett Area Preservation Society and has been its President for several years.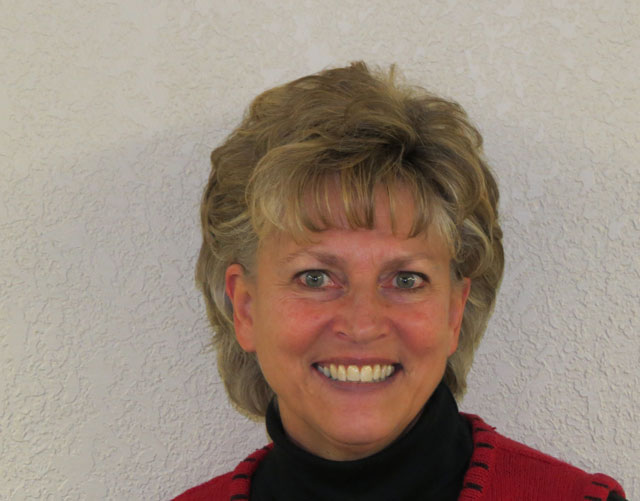 Local author, Debra Chapoton, was born in Muskegon, Michigan, raised in Pontiac, and graduated from Oakland University.   She spent her career in Utica as a Spanish teacher. She and her husband Paul retired to Topinabee when they found the area irresistibly beautiful and the people friendly. Debra is a prolific author.  She began writing during summers off from teaching and has penned eleven children's books, two non-fiction books, and six young adult novels with three more in the works. All of her books can be found on Amazon, Barnes & Noble, and most online bookstores. Her website is http://www.bigpinelodgebooks.com/ .  Debra also has a blog at http://www.debrachapoton.com/.
Debra and Paul have four children and nine granchildren.  In addition to writing Debra enjoys studying languages, playing Qwirkle, singing in Topinabee Community Church's choir, and hosting children and grandchildren in the log home she and Paul built.
INDIAN RIVER CAMPGROUND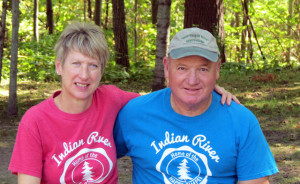 Don and Nancy Schlickau purchased the Indian River Campgrounds located just South of  Topinabee in 1998.  Don retired from the U.S. Army, where he served as an engineer at the Tank Command Center in Warren Michigan.  Following Don's retirement, he and Nancy looked for a second career or as they call it  "occupational readjustment".  Having been campers, they looked from Florida to California  to buy a campground.  Someone told them about a campground "Up North" that was owned by the bank. They bought it and the rest is history.  The campground has been  expanded and improved to 140 sites and 9 cabins.  They have 60 campers who are there for the season  from May to October.  Nancy is a native of Detroit where she grew up and attended school.  Don is from Hutchinson, Kansas.  Don attended Cornell University where he received his BA and two Masters degrees.  He was enrolled in a doctoral program when he was transferred by the Army.  Don and Nancy have two sons, four granddaughters and two grandsons.  Their web site is www.indianrivercampground.com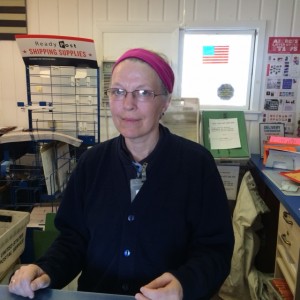 Debbie Williams is our current Postmaster in Topinabee, and was born and raised in Alma, Michigan.  After graduating from Alma High School she attended Olivet College for a year.  She was married and moved to Cheboygan where she and her husband Harry currently  live.  Debbie worked at Proctor and Gamble for 5 years and Carters for 10 years before taking a job at the Indian River Post Office. She worked at the post office since 1993 before transferring to the Topinabee site.  She has two sons- one living in Cheboygan and the other in Rockford, Michigan. She enjoys fishing, boating and camping. She rode a motorcycle for many years before recently giving up that activity. Welcome to Topinabee Debbie!
THE NOKA HAS NEW OWNERS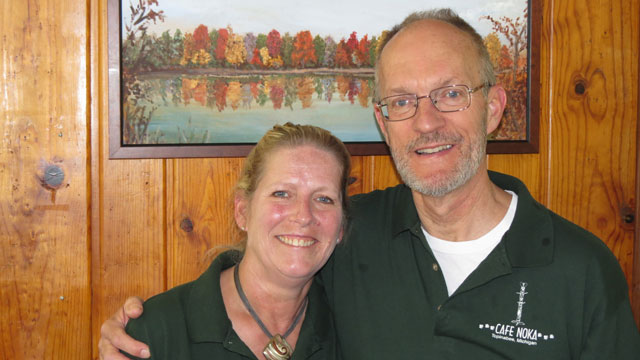 Glen and Jenifer Michie recently purchased the Noka Cafe from long time owner Theresa Pierson.  Jenny is a native of North Carolina and lived there through her school years.  She met Glen and he brought her back to Michigan.  Glen was born in Dearborn, Michigaqn.  He worked for Consumers Power and then a Power Company in North Carolina.  He returned to Consumers Power and they resided in the Holland area in Hamilton.  They raised their family of two boys and two girls in Hamilton.  They also have three grandchildren.  Glen is a graduate of the University of Michigan and retired from Consumers as a Senior Engineer.  He continues to do contract work for the company.  They bought a vacation home north of Topinabee a few years ago and it is their full time residence now.  Jenny has worked in various capacities in the food industry and when she saw the for sale sign in front of the Noka she said this looked like a dream come true. She is enjoying her work and continues with the same  menu while adding some special things  such as special cup cakes for holidays like Valentines Day and Mothers Day.  The daughter, Allie, is working in the restaurant along with long time waitress, LeeAnne and Theresa comes in occasionally to help out. Glen is a avid hunter and Jenny's hobby has always been cooking.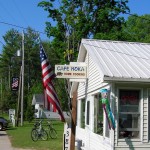 MIKE ENGLISH MULLETT TOWNSHIP FIRE DEPARTMENT CHIEF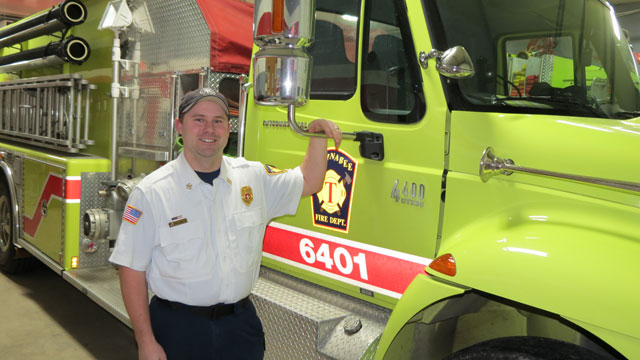 Mullett Township has a new fire chief with a familiar sounding name.  Mike English has replaced his father as the fire department chief for Mullet Township-Topinabee location.
Mike was born and raised in the area and has lived in Topinabee his whole life (except for college).  He graduated from the Inland Lakes School.  He attended Lake State University and received degrees in Fire Science and Para Medic Medical Training.  He is employed by the Cheboygan Life Support system as a para medic and also serves as training officer for the company.
As fire chief he is responsible for the administration of the department, the budget and making the sure that the department meets all state standards for a department.  The department has 25 volunteers.  They average about 100 runs a year from fires, to accidents to downed power lines.  Fires average fifteen to twenty of these runs.
Mike joined the department in 2001.  He lives in Topinabee with his wife Jessica and their two year old twins and six month old son. 
With two jobs and three small children he has little time to pursue his hobbies of hunting, fishing and playing hockey.
 PASTOR MIKE SANDERS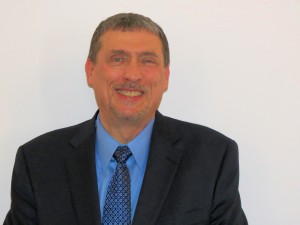 Michael Sanders serves as Pastor of the Topinabee Community Church.  He was born and raised in Mt. Vernon is Southern Illinois.  He attended school there and attended a community college in Mt. Vernon as well.  He received his BA degree from Southern Illinois University.  Pastor Mike attended Southern Seminary in Louisville, Kentucky where he received his doctorate degree.  He served as a pastor at several churches for 27 years in Southern Illinois.  He came to the Topinabee Church in 2001 and served for six years.  Pastor Mike then served some churches in Lower Michigan before returning to Topinabee in 2012.
He has three children and five grandchildren and they live in Virginia, Illinois and Missouri. He and his wife Kathy live in the area.
He has written three books and writes a weekly column in the Petoskey and Cheboygan newspapers.  Pastor Mike also served as a freshman boys' basketball coach at Indian River High School. In his spare time he enjoys reading and traveling.  
MULLETT TOWNSHIP SUPERVISOR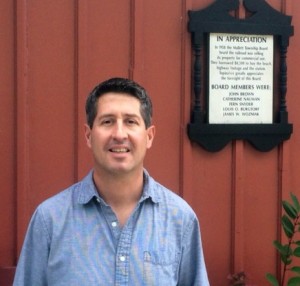 The Mullett Township Board originally hired Hobie Kirsch of Hobie's Home Solutions to handle the maintenance work for the township.  Since then, Hobie has also taken on the duties of Township Supervisor.  Hobie is a native of the area-raised and attended school in Cheboygan and moved to Topinabee when he was 16.  He spent his summers working at Hobart Marine and enjoyed being on the water.  After high school he joined the Navy and spent four years on submarine patrol.  He said that was an exciting time and he has been around the world and under the polar ice cap as well.  He served  in the reserve and did his "time" by spending the summers with the Navy.  Hobie participated in the "Desert Shield" conflict during his time in the reserves.  He left the service and attended Lake Superior University and graduated with a degree in Political Science.   He worked at the Mitchell Street Pub as a bartender for 15 years before moving back to Topinabee.  He then went to work tending Bar at Hoppies and continues to do so on a part time basis.  In May he started his own company-Home Solutions- and is busy doing a wide variety of home improvement projects in the area.   He is married to his wife Tammy and when he is not working at one of his three jobs he enjoys, boating, fishing and mushrooming.  Welcome to Mullett Township Hobie!
TOPINABEE LIBRARIANS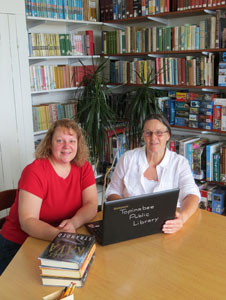 Ann Klebba (l) Patti King (r)
Librarian Patricia  King was born in Chelsea, Mass. and moved to Indian River and graduated from school there. She has lived in Topinabee for several years Patti and Brian have five children and five grandchildren.  In addition to the Library, she has worked at the Topinabee Market, Cheboygan Area Schools, and the Café Noka. She loves summer enjoying the sun and boating and enjoys knitting and cooking.
Assistant librarian Ann Klebba was raised in Grosse Point, Michigan and then lived in Roseville Michigan. She attended Lutheran High School East and Macomb County Community College.   She worked for 25 years in the home medical care field.  When she and her husband retired they moved to the cottage they owned on Paradise Lake while they looked for property.  They bought a log home on acreage in the area in 2012.  She was a member of the Paradise Lake Association Trustee, and served on the improvement board and was a grant committee member. She became acquainted with the Topinabee library through the use of the library's internet service.  She cannot get internet service at their home and she would spend a couple of afternoons a week using the internet.  Her hobbies are reading, volunteer work and socializing.  Welcome to the library Ann.
FRIENDS OF THE LIBRARY
The friends of the library are a group of volunteers that work to support and improve the Topinabee library.   They raise money by holding a book sale each year and they have library related articles for sale in the library. Funds raised are used to purchase books and other items for the library. They hold holiday parties for the children and provide summer story time for children at 11:00 on Tuesdays during the summer.  The Friends meet the 3rd Monday of each month and all are welcome to attend.  The community thanks them for helping to make Topinabee a better place to live.    Picture
Standing l-r: Sherry Stefanes, Mary Jan Miller, Patti King,seated
Siting l-r: Anne Whitmore, Babs Naylor, Nancy Barber, Pat Singel, Mary Parr
ERV AND  JANICE CRAWFORD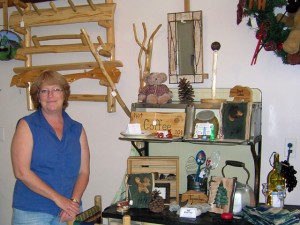 Ervin  and Janice Crawford operate ABC Rustics in Topinabee. Janice was raised in the Onaway area , lived for a short period of time in Florida and has been living in the Topinabee area for several years.  She has worked in some area restaurants and now runs the ABC Rustic Store in Topinabee.  Ervin grew up in the area and has lived here all his life.  Ervin and Janice have three children and four grandchildren.  Erv has always been close to wood.  His grandfather and father worked in the woods and he has spent his adult life working with wood.  He was employed at Cheboygan Lumber for twenty years and has always been fascinated by making things out of wood.   He opened  his  store a few years ago selling all kinds of wood projects that he makes  for the home.  In addition to the products he makes for the store, he does custom work for customers and that is now is about 90% of his work.  He can make almost anything  with any dimensions the customer would want.  Most of the wood he works with comes from his own 100 acre piece of property.  He has his own saw mill and workshop on this site.  You can often find Erv working on a project outside the shop on Saturday mornings.  Stop in ABC Rustics and you will find some beautiful woodwork.
DEREK SCHITTEKAT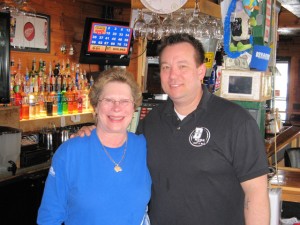 Derek was born, raised and attended school in Sterling Heights.  Derek moved to Topinabee when his family purchased the Breakers from the Myers family.  Derek had worked in the restaurant business downstate at TJ Friday's.   and Mr. B.  One of his customers downstate had a cottage on Grandview Beach and suggested that  he should look into a bar for sale on Mullett Lake.  The investigated the property and purchased the business.  The have made improvements to the business  and the Breakers has become a very popular eatery on the lake.   Derek had his wife Jenna have four children.  He said that his hobbies include work and kids!  Beth Blaskowski pictured with Derek has worked at the Breakers for 32 years!
JEFF COMPS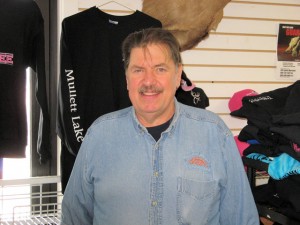 Jeff was born and raised in the SE Michigan area.  He attended the Rochester Community Schools and graduated from that High School.  Jeff has had many careers before moving to Topinabee.  He was a farmer and grew corn and wheat, he worked as well driller, a carpenter and a builder.  With this background it was a natural for him to buy the Topinabee Market in 1997.  During his ownership he made many improvements to the Market and expanded the items sold including opening a deli section that was very popular.  He has since sold the market to Lynette and Jeff Lagota.  He belongs to the Indian River Eagles, and the Indian River Chamber of Commerce.  He enjoys fishing and hiking and being a part of the Breakers Poker Club.  Jeff has been very active in supporting all things for Topinabee.
MEET MULLETT TOWNSHIP BOARD TREASURER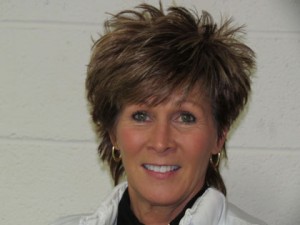 KATHY FLORY
Kathy attended school in Topinabee and graduated from Inland Lakes High School.  She took accounting classes at NCMC.  She lived in Petoskey for several years before moving back to Topinabee in 1994 when she and her husband Kevan built their home in the area. Kathy is employed at the Topinabee Market as office manager and bookkeeper and she is the owner/ property manager of Along the Waterway Rentals.
Kathy enjoys the outdoors.  She spends time boating in the summer and snowmobiling in the winter.  She enjoys traveling, camping,  campfires and cookouts in the back yard,  swimming in their pool and gardening.
Kathy is in her second year as the township supervisor.
MULLETT TOWNSHIP BOARD MEMBER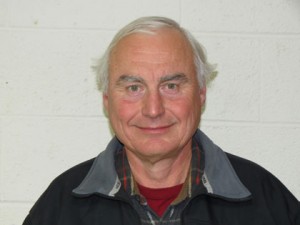 FORMER MULLETT TOWNSHIP SUPERVISOR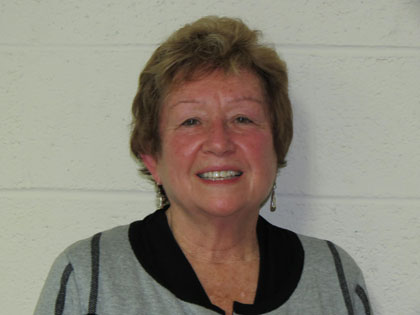 Former Township Supervisor Mary Anne Gale was born in Lansing and graduated from Michigan State University with a major in Retailing.  She has three children.  She has lived in various places around the country and world-including-Cincinnati, Ohio, Albany, Georgia, Tunkhannock, Pennsylvania, Sao Paolo, Brazil and Guangyhn, China.  She retired as a vice-president of Proctor and Gamble after a thirty-five year career.  She is author of the book "Running for Office: Getting Yourself Elected to the Career You  Really Want".  She has been a speaker discussing the topic of  the book.  She has been a member of the Governors Talent Investment Board, member of Visoins Advisory Board, Sacred Heart Church and the Women's Club. She enjoys tennis, golf and reading in her spare time.
MULLETT TOWNSHIP CLERK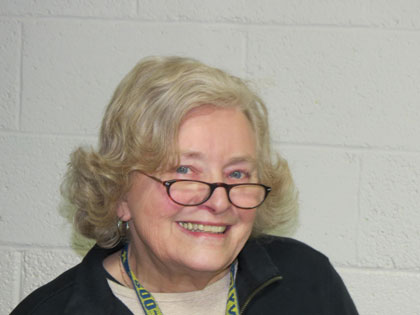 Rachel Osborn was born in Oklahoma City and she has also lived in Stillwater, Oklahoma, Ashland, Ohio, Elkhart Indiana and Rockford, Illinois before moving to Topinabee.   She attended Indiana University where she studied  history, languages and music.  She has two sons and four grandchildren.
She was employed as a sales engineer for Delta Machine Controls in Ohio and Power Controls in Indiana.  She wrote production papers for cost accounting and designed and built models for Switch Company.  Her interests and hobbies include building and designing houses, designing small cottages, laying hardwood floors, designing crown molding and singing in productions and church choir.  She attends the Cross in the Woods and serves as the Mullett Township Clerk.
Mullett Township Board Member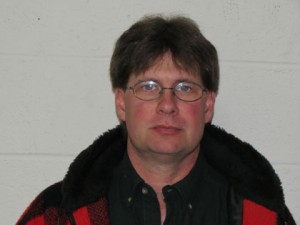 John F. Brown is a Cheboygan County native and graduated from Cheboygan High School.  Other than six months in Chelsea, Michigan he has always lived in the area.  He and his wife Carlene have two sons and a daughter.  John is the owner of Brown's Sawmill and he also works at the Cheboygan County Humane Society.  He is a director of Presque Isle Electric and Gas as well as serving as a trustee on the Mullett Township Board.   He also is involved in the Cheboygan County Youth Livestock Program and is a Cheboygan High School football volunteer.  He enjoys hunting, fishing and boating.   Thanks to John for serving on the Board.
Topinabee Postal Employee
 Debbie Bettis is a long-time employee of the Topinabee Post Office, and for a time served as Postmaster.  She is a life long resident of Topinabee and  graduated from the Inland Lakes Schools.  Debbie has two children and one grandchild who currently resides in Germany with Debbie's daughter and her husband.  Her parents, Bob and Heddy Lalond, also reside in Topinabee.   She worked for the Straits Area Service Agency for 37 years working with adults with disabilities.  Debbie went through all of the postal service training and testing including four days of training  in Grand Rapids and her supervisor stated that she did very well with her postal education. Debbie stated that it was an "honor and pleasure" to serve the residents of  Topinabee.  Currently, she also works at the Topinabee Market.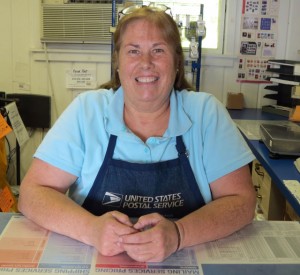 TOPINABEE AUTHORS
Topinabee is the home of two authors who have published many books  Chris Wright, alias Johnathan Rand, has over 80 books to his credit and  Debra Chapoton has also published several books.  Check out their websites listed below.
Debra Chapoton is a former high school teacher who fell in love with a hundred different teenagers every year. She writes children's and young adult novels relying on her teaching experiences for inspiration and authenticity. Her  novel, EDGE OF ESCAPE, was first self-published and then bought by a major international publisher. It is a story of physical and psychological survival in which stalking and obsession get a sympathetic twist. In her most recent novel, SHELTERED, five troubled teens confront demonic forces and must deal with their problems in distinctly different ways.
She currently lives with her husband in a log home set in the middle of a climax forest. Like many of the teens she taught, her neighbors are all wild.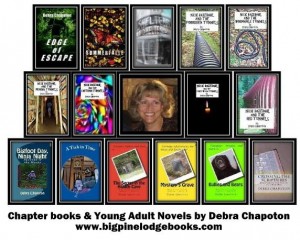 Chris Wright has authored more than 80 books since the year 2000, with over 4 million copies in print. Under the pen name Johnathan Rand, his books include the incredibly popular AMERICAN CHILLERS, MICHIGAN CHILLERS, FREDDIE FERNORTNER, FEARLESS FIRST GRADER, and THE ADVENTURE CLUB. Wright also writes fiction for adults under the pen name Christopher Knight, including Bestseller, Season of the Witch, St. Helena, Ferocity, The Laurentian Channel, The World is Black and White, and others. When not traveling, Wright lives in Topinabee, Michigan with his wife and three dogs. He is also the only author in the world to own a store that sells only his works: CHILLERMANIA! is located in Indian River, Michigan and is open year round. Visit www.americanchillers.com for more information.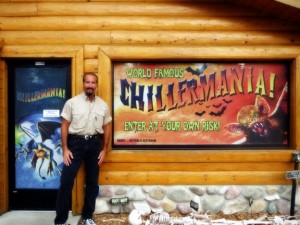 LONGTIME TOPINABEE RESIDENT GAIL GARRISON WAS FEATURED AS A PERSON OF THE WEEK IN THE CHEBOYGAN TRIBUNE
 (CLICK ON THE LINK BELOW TO READ THE ARTICLE)
Gail Garrison holds her diploma from Cheboygan Area High School that she received eighty years ago. Garrison, who is 96-years-old, was born and raised in Topinabee and returns to to the area each summer. All of her siblings attended school in Cheboygan as well, including her sister Lillian who is 100 years old.