Topinabee Happenings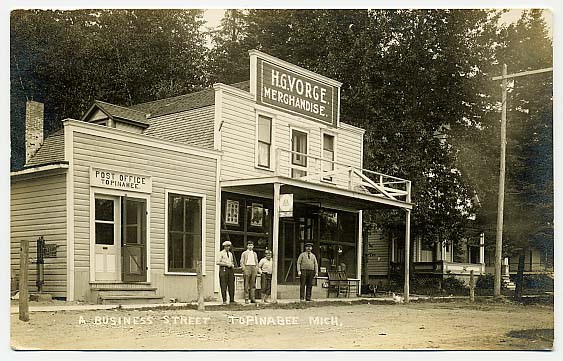 2016 MULLETT TOWNSHIP BOARD MEETINGS
Jan. 5- Topinabee Township Hall
Feb. 2- Topinabee
March 1- Topinabee
April 5 -East Mullett Fire Hall
May 3- Topinabee
June 7- East Mullett
July 5-Topinabee
August 9- Topinabee
September 6- Topinabee
October 4- East Mullett
November 1-Topinabee
December 6- Topinabee
STURGEON PLANTING
500 Sturgeon were planted in Mullett Lake during September of 2015.  
The 6-9 inch fingerlings were provided by "Sturgeon for Tomorrow".  Your support of this organization has made this planting possible. 
BREAKERS FEATURED ON TV 
Clink on the link below to see a TV feature on the Breakers-click on the connect button in the article to hear the report.
SEE STURGEON IN MULLETT LAKE
STURGEON PLANTED IN MULLETT LAKE
Sturgeon for Tomorrow in cooperation with the Mullett Preservation Society planted fish in Mullett Lake on August 23rd.  This is part of the program to preserve, protect and expand sturgeon in Northern Michigan Lakes.  Sturgeon raises the fish at their hatchery near Black Lake for planting.  Tours are available at the hatchery and are a very educational experience.  Over 8000 sturgeon have been planted in Mullett Lake since 2003 through the Sturgeons for Tomorrow program with support from MAPS.  Walleye plantings since 1999 have totaled more than 1,000,000,000.  The Walleye program is supported by the DNR, tribes and MAPS.
THANKS TO PHIL WELCH
Phil Welch, a Topinabee resident and owner of Michigan  Lakes Products,  solved a long-time problem at the Topinabee Park.  Seagulls and ducks love to use the swim dock as their restroom!  Walking on the dock can be a hazard for  your feet!.  Phil worked with his company to come up with a solution to the problem.  Finding a solution, Michigan Lake Products donated the material to make the swim dock doo doo free!  Thanks to Mr. Welch and Michigan Lake Products.  An article in the Cheboygan Tribune about this product can be found at the bottom of this page
 DNR FISHING REPORT
Synopsis:
Intensive surveying of juvenile and adult walleye populations in the entire Inland Waterway in recent years has provided valuable information on walleye movement, densities, growth rates, and spawning locations. Mullett Lake has typically had lower densities of walleye when compared to Burt Lake, which is totally reliant on natural reproduction of walleye. Walleye spawning habitat and early life history conditions may be more conducive to walleye production in Burt Lake compared to Mullett Lake. Many walleye in Mullett Lake naturally leave the lake to spawn either in Burt Lake/Sturgeon River, or downstream in the Cheboygan River/Lower Black River. This often lowers the potential for wild young walleye in Mullett Lake itself. However, this lake also receives adult fish throughout the year from Burt Lake based on tagging/movement data we have obtained.
 Efforts have been made recently to bolster walleye densities in Mullett Lake through stocking efforts. Michigan fish stocking guidelines recommend that spring fingerling walleye (1-2 inches, stocked in June) should be stocked at a rate 25-100/acre. The same guidelines recommend that fall fingerlings (5-7 inches,stocked in October or November) are stocked at a rate of 10-25/acre. Due to the sheer size of Mullett Lake at 17,000 approximate acres, neither of these lofty stocking rates was achieved each year. Despitethis, considerable numbers of fish were stocked as spring fingerlings (DNR) and fall fingerlings (Mullett Area Preservation Society) from 2010 through 2013. Survival estimates are not known for eachgroup of stocked fish. However, we do know that spring fingerling plants have contributed to the population based on marked fish analysis. Also, catch rates of juvenile walleye have increased based on fall survey catches in these years. It is clear that stocking efforts can help supplement walleye stocks in natural reproduction falters or remains low at Mullett Lake. Anglers have also reported an increase in sub-legal walleye catches in recent years.
 DNR will continue to rely on natural reproduction in this system to produce a fishery. DNR's goal was to stock spring fingerlings at reasonable rates (we achieved 6-27 fingerlings/acre) in three out of five years. Indications pointed to a large wild year class produced in Mullett Lake in 2014. These reports were from: 1) anglers reporting numerous small (4-6 inch) walleye caught during the late 2014 fishing season and during the winter, and 2) 3-4 inch walleye as forage were documented in the stomachs of harvested steelhead in the summer at Mullett Lake. Fall juvenile assessments found these indicators to be true, and it was apparent that a large year class had been produced for unknown reasons (although extended spring ice cover in spring 2014 may be one reason). The catch rates of nearly 80/hour of age-0 walleye in fall 2014 were eight times higher than the highest catch per hour of age-0 fish in a year when significant numbers of fingerling walleye were stocked (2013). In summary, natural production will likely overshadow stocked numbers in those sporadic years of good wild year classes.
 Periodic checks of the walleye population will allow us to determine if further supplemental stocking is needed to maintain an acceptable walleye fishery, and to gain insights into natural reproduction. Fall fingerling walleye were stocked at annual rates of less than one fall fingerling per acre. These are costly fish raised by the private sector, and MAPS should examine the cost:benefit ratio of stocking such costly fish, especially since an acceptable number of juvenile walleye are currently in the lake, especially from the 2014, 2013, and 2011 year classes.
| | | | | | | | |
| --- | --- | --- | --- | --- | --- | --- | --- |
| Year | Location | Strain | Period stocked | Size | Number | #/acre | Stocking Entity |
| 1999 | Topinabee | Muskegon | May/Jn | 1.2" | 100,000 | 5.8 | DNR |
| 2000 | Topinabee | Tittabawassee | May | 0.9" | 100,000 | 5.8 | DNR |
| 2001 | Boy Scout Camp | Tittabawassee | May | 1.1" | 100,000 | 5.8 | DNR |
| 2002 | Boy Scout Camp | Tittabawassee | June | 1.2" | 13,870 | 0.8 | DNR |
| 2003 | Boy Scout Camp/Dodge Pt | Tittabawassee | June | 1.1" | 100,000 | 5.8 | DNR |
| 2010 | Boy Scout Camp/Dodge Pt/Topinabee | Muskegon | June | 1.8" | 101,000 | 5.9 | DNR |
| 2010 | Dodge Pt. | Muskegon | Oct | 7.0" | 4,000 | 0.2 | Private |
| 2011 | Topinabee | Muskegon | June | 1.8" | 97,951 | 5.6 | DNR |
| 2011 | Topinabee | St. Marys | Oct | 6-7" | 7,500 | 0.4 | Private |
| 2012 | Topinabee | St. Marys | Oct | 7" | 7,500 | 0.4 | Private |
| 2013 | Topinabee | Muskegon | June | 1.7" | 466,000 | 27 | DNR |
| 2014 | Boy Scout Camp | St. Marys | June | 1.3 | 20,000 | 1 | CORA |
Written by: Tim Cwalinski, MDNR Fisheries Biologist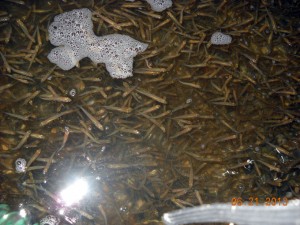 FISH PLANTING IN MULLETT LAKE
The Mullett Lake Area Preservation Society has worked with the DNR, Sault Tribe and area business to try to improve fishing in Mullett Lake.  MAPS has contributed $30,000 to drive the planting of fish in the lake.  Over the past three years, over 650,000 walleye fingerlings, and 1500 6-8 inch walleyes have been planted in the lake.  This summer over 7000 sturgeon fingerlings were planted in the Pigeon River, a tributary of Mullett Lake. More sturgeon will be planted in Mullett Lake this fall.  Michigan State University and the DNR have been engaged in a study of success of these plantings.  Fishermen are asked to return the "guts" of walleye catches to the DNR to assist with this study.  Better fishing should be in the future for Mullett Lake.
THE PARK IS DEDICATED
A large turnout came to the Topinabee Beach Park for the dedication of the upgraded park.  The park was financed by the Mullett Township Board, a grant from the  DNR Trust Board and fund raised by local citizens.  David Ogg worked with the Board to write a grant for the park and he was appointed by the Board to oversee construction of the project. 
Did you know…about my neighborhood?
My home is located at 1466 Patterson.  On May 25, 1885, Mary and Oscar Adams purchased the property from Robert Patterson for $50.  It's interesting to note the property faced Adams Avenue which is now US 27.  Oscar Adams was an attorney originally from Flint, MI.  He moved his firm to Cheboygan and in 1894 was elected Cheboygan Circuit Judge, a position he held for 6 years.  During that time he made Topinabee his permanent home.  Mary and Oscar Adams lived in the home until   1916 when it was purchased by Sylvia and Sherman Callender.  They owned the home until 1959 – 43 years!  Lera and Fred Slater were the owners from 1959 until 1964, then Eleanor and Richard Spencer called it "home" until 1979.  (We're getting close to me!)  In 1979, the home was purchased by Elaine and Thomas O'Hare.  Mr. O'Hare was a carpenter and he and his family lived in Bay City.  They purchased the home for weekend getaways for themselves and their 6 children, and later…grandchildren.  For the next 32 years, all the O'Hares enjoyed the home.  Three of the children now have Topinabee homes, Mary and Tom O'Hare and Mary Jan and Gary Miller make Topinabee their permanent home, and their sister, Mary Jo Smith and her family own the blue home down the hill and come for summer getaways!  Topinabee really gets into your blood!  So in 2011, I bought the home.  The footprint of the home has remained the same over these many years but the inside has changed.  If you'd like to see the inside and a few early photos of the home, be sure and purchase a ticket for the Christmas Home Tour on December 8.  I'll show you around!    
 One of my neighbors across the street has quite a history too.
 The Topinabee Community Church was originally built in 1917.  The "little white church on the hill" was organized as a Methodist Church and at its' beginning was the only church located on the west side of Mullett Lake.  Eventually, Topinabee began to lose some of its' early tourist population and fewer and fewer members were true Methodists.  So in 1947, the church was reorganized as an Independent inter-denominational organization of Christians.  Methodist Church officials actually allowed the church to be sold, and the faithful church body purchased the building for $1800.  The sanctuary was expanded and classrooms added.  The church continues today as a result of a caring congregation of fewer than 100 regular members.  One of my favorite things about the church is the church bell.  Listen for it on Sunday mornings.   
TOPINABEE AUTHORS
Topinabee is the home of two authors who have published many books  Chris Wright, alias Johnathan Rand, has over 80 books to his credit and  Debra Chapoton has also published several books.  Check out their websites listed below.
Debra Chapoton is a former high school teacher who fell in love with a hundred different teenagers every year. She writes children's and young adult novels relying on her teaching experiences for inspiration and authenticity. Her YA novel, EDGE OF ESCAPE, was first self-published and then bought by a major international publisher. It is a story of physical and psychological survival in which stalking and obsession get a sympathetic twist. In her most recent novel, SHELTERED, five troubled teens confront demonic forces and must deal with their problems in distinctly different ways.
She currently lives with her husband in a log home set in the middle of a climax forest. Like many of the teens she taught, her neighbors are all wild.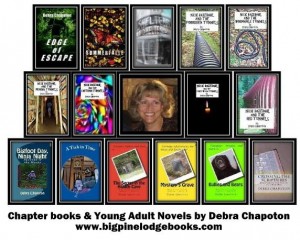 Chris Wright
has authored more than 80 books since the year 2000, with over 4 million copies in print. Under the pen name Johnathan Rand, his books include the incredibly popular AMERICAN CHILLERS, MICHIGAN CHILLERS, FREDDIE FERNORTNER, FEARLESS FIRST GRADER, and THE ADVENTURE CLUB. Wright also writes fiction for adults under the pen name Christopher Knight, including Bestseller, Season of the Witch, St. Helena, Ferocity, The Laurentian Channel, The World is Black and White, and others. When not traveling, Wright lives in Topinabee, Michigan with his wife and three dogs. He is also the only author in the world to own a store that sells only his works: CHILLERMANIA! is located in Indian River, Michigan and is open year round. Visit www.americanchillers.com for more information.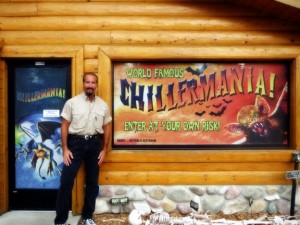 MICHIGAN MUSIC VIDEOS
Click on the following to hear Michigan's songs
Tribute to the State of Michigan
PURE MICHIGAN-CHEBOYGAN COUNTY
View the beautiful video of Cheboygan County