Topinabee Happenings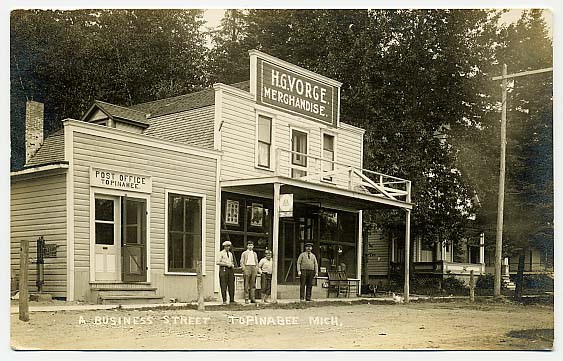 2016 MULLETT TOWNSHIP BOARD MEETINGS
September 6- Topinabee
October 4- East Mullett
November 1-Topinabee
December 6- Topinabee
TOPINABEE LIBRARY FEATURED ON TV
The Topinabee library was featured on Channel 9/10
on Friday May 20.  Click on the link below to view the report.
 TOPINABEE  LIBRARY
The library now provides e-books.  Stop in and pick up a library card and you will have access to thousands of books online.  
Best of all there is no charge!
Learn more about the Library at:
BREAKERS FEATURED ON TV 
Clink on the link below to see a TV feature on the Breakers-click on the connect button in the article to hear the report.
SEE STURGEON IN MULLETT LAKE
STURGEON PLANTED IN MULLETT LAKE
Sturgeon for Tomorrow in cooperation with the Mullett Preservation Society planted fish in Mullett Lake on August 23rd.  This is part of the program to preserve, protect and expand sturgeon in Northern Michigan Lakes.  Sturgeon raises the fish at their hatchery near Black Lake for planting.  Tours are available at the hatchery and are a very educational experience.  Over 8000 sturgeon have been planted in Mullett Lake since 2003 through the Sturgeons for Tomorrow program with support from MAPS.  Walleye plantings since 1999 have totaled more than 1,000,000,000.  The Walleye program is supported by the DNR, tribes and MAPS.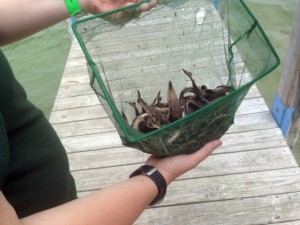 THANKS TO PHIL WELCH
Phil Welch, a Topinabee resident and owner of Michigan  Lakes Products,  solved a long-time problem at the Topinabee Park.  Seagulls and ducks love to use the swim dock as their restroom!  Walking on the dock can be a hazard for  your feet!.  Phil worked with his company to come up with a solution to the problem.  Finding a solution, Michigan Lake Products donated the material to make the swim dock doo doo free!  Thanks to Mr. Welch and Michigan Lake Products.  
THANKS JEFF!
A party was held at the Breakers on June 2 to recognize his 19 years of operating the Topinabee Market and service to many community activities.  A large turn out came to say thanks to Jeff.
Jeff with Ed Dombrowski who owned the store before Jeff.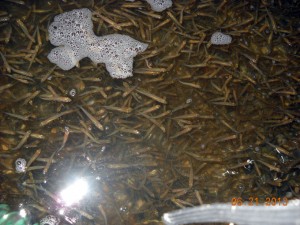 FISH PLANTING IN MULLETT LAKE
The Mullett Lake Area Preservation Society has worked with the DNR, Sault Tribe and area business to try to improve fishing in Mullett Lake.  MAPS has contributed $30,000 to drive the planting of fish in the lake.  Over the past three years, over 650,000 walleye fingerlings, and 1500 6-8 inch walleyes have been planted in the lake.  This summer over 7000 sturgeon fingerlings were planted in the Pigeon River, a tributary of Mullett Lake. More sturgeon will be planted in Mullett Lake this fall.  Michigan State University and the DNR have been engaged in a study of success of these plantings.  Fishermen are asked to return the "guts" of walleye catches to the DNR to assist with this study.  Better fishing should be in the future for Mullett Lake.
 TOPINABEE CHURCH
 The Topinabee Community Church was originally built in 1917.  The "little white church on the hill" was organized as a Methodist Church and at its' beginning was the only church located on the west side of Mullett Lake.  Eventually, Topinabee began to lose some of its' early tourist population and fewer and fewer members were true Methodists.  So in 1947, the church was reorganized as an Independent inter-denominational organization of Christians.  Methodist Church officials actually allowed the church to be sold, and the faithful church body purchased the building for $1800.  The sanctuary was expanded and classrooms added.  The church continues today as a result of a caring congregation of fewer than 100 regular members.  One of my favorite things about the church is the church bell.  Listen for it on Sunday mornings.   
TOPINABEE AUTHORS
Topinabee is the home of two authors who have published many books  Chris Wright, alias Johnathan Rand, has over 80 books to his credit and  Debra Chapoton has also published several books.  Check out their websites listed below.
Debra Chapoton is a former high school teacher who fell in love with a hundred different teenagers every year. She writes children's and young adult novels relying on her teaching experiences for inspiration and authenticity. Her YA novel, EDGE OF ESCAPE, was first self-published and then bought by a major international publisher. It is a story of physical and psychological survival in which stalking and obsession get a sympathetic twist. In her most recent novel, SHELTERED, five troubled teens confront demonic forces and must deal with their problems in distinctly different ways.
She currently lives with her husband in a log home set in the middle of a climax forest. Like many of the teens she taught, her neighbors are all wild.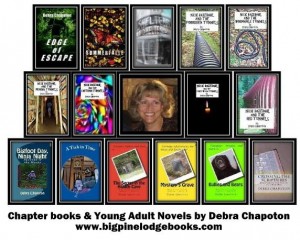 Chris Wright
has authored more than 80 books since the year 2000, with over 4 million copies in print. Under the pen name Johnathan Rand, his books include the incredibly popular AMERICAN CHILLERS, MICHIGAN CHILLERS, FREDDIE FERNORTNER, FEARLESS FIRST GRADER, and THE ADVENTURE CLUB. Wright also writes fiction for adults under the pen name Christopher Knight, including Bestseller, Season of the Witch, St. Helena, Ferocity, The Laurentian Channel, The World is Black and White, and others. When not traveling, Wright lives in Topinabee, Michigan with his wife and three dogs. He is also the only author in the world to own a store that sells only his works: CHILLERMANIA! is located in Indian River, Michigan and is open year round. Visit www.americanchillers.com for more information.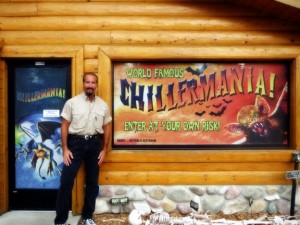 MICHIGAN MUSIC VIDEOS
Click on the following to hear Michigan's songs
Tribute to the State of Michigan
PURE MICHIGAN-CHEBOYGAN COUNTY
View the beautiful video of Cheboygan County