Topinabee Happenings
 TOPINABEE CHURCH
 The Topinabee Community Church was originally built in 1917.  The "little white church on the hill" was organized as a Methodist Church and at its' beginning was the only church located on the west side of Mullett Lake.  Eventually, Topinabee began to lose some of its' early tourist population and fewer and fewer members were true Methodists.  So in 1947, the church was reorganized as an Independent inter-denominational organization of Christians.  Methodist Church officials actually allowed the church to be sold, and the faithful church body purchased the building for $1800.  The sanctuary was expanded and classrooms added.  The church continues today as a result of a caring congregation of fewer than 100 regular members.  One of my favorite things about the church is the church bell.  Listen for it on Sunday mornings.   
TOPINABEE AUTHORS
Topinabee is the home of two authors who have published many books  Chris Wright, alias Johnathan Rand, has over 80 books to his credit and  Debra Chapoton has also published several books.  Check out their websites listed below.
Debra Chapoton is a former high school teacher who fell in love with a hundred different teenagers every year. She writes children's and young adult novels relying on her teaching experiences for inspiration and authenticity. Her YA novel, EDGE OF ESCAPE, was first self-published and then bought by a major international publisher. It is a story of physical and psychological survival in which stalking and obsession get a sympathetic twist. In her most recent novel, SHELTERED, five troubled teens confront demonic forces and must deal with their problems in distinctly different ways.
She currently lives with her husband in a log home set in the middle of a climax forest. Like many of the teens she taught, her neighbors are all wild.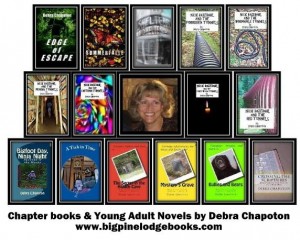 MICHIGAN MUSIC VIDEOS
Click on the following to hear Michigan's songs
Tribute to the State of Michigan
PURE MICHIGAN-CHEBOYGAN COUNTY
View the beautiful video of Cheboygan County